The craftsmanship that is inherited the artist's aesthetic
Under the potter's supervision, we produce our ceramics full of individuality and reflect successive generations' style.
Each piece is hand-painted and handcrafted by skilled artisans who have received technical guidance, and each piece has its unique expression.
We are proud of our reputation as a traditional pottery manufacturer. All of us are dedicated to our works for your satisfaction using lifelong.
Shino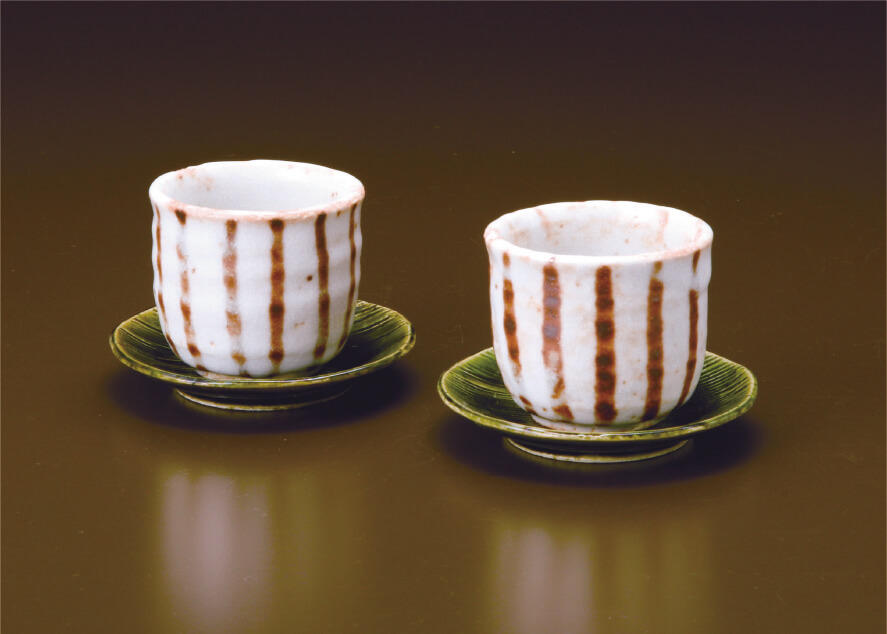 One of the techniques of Mino Momoyama pottery, the first white pottery made in Japan. A thick feldspar glaze is applied on a white clay base called Hyakuso soil and fired. The glaze skin has many delicate crackle glazed surface, citron skin, and small holes, and the glaze edge and rim, which are less glazed, have a reddish landscape called scarlet. Also, there are several types, such as Nezumishino and Benishino.
Ryotaro Kato spends five days and nights firing in anagama kiln.
Oribe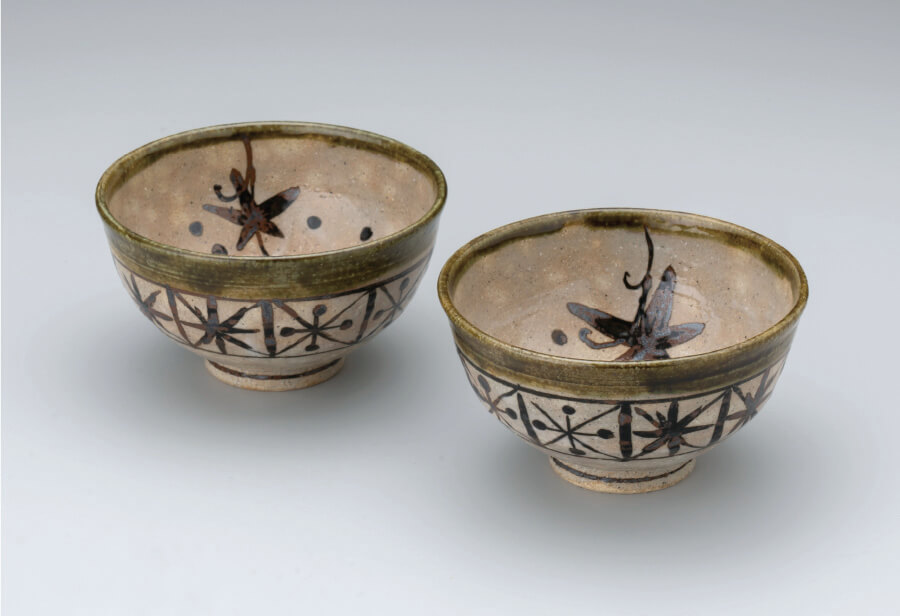 This is one of Mino-Momoyama pottery techniques, which was created under the guidance of a feudal lord, Furuta Oribe, a tea ceremony master in the Warring States period. There are several types of Oribe pottery depending on the color of glaze, such as Black Oribe, Red Oribe, Shino Oribe, and Yashichida Oribe. Specaill Ao Oribe with copper green glaze is the most famous.
Ryotaro Kato produced the kiln-fired Oribe in anagama, and he fuses with Oribe and calligraphy in his style.
Kizeto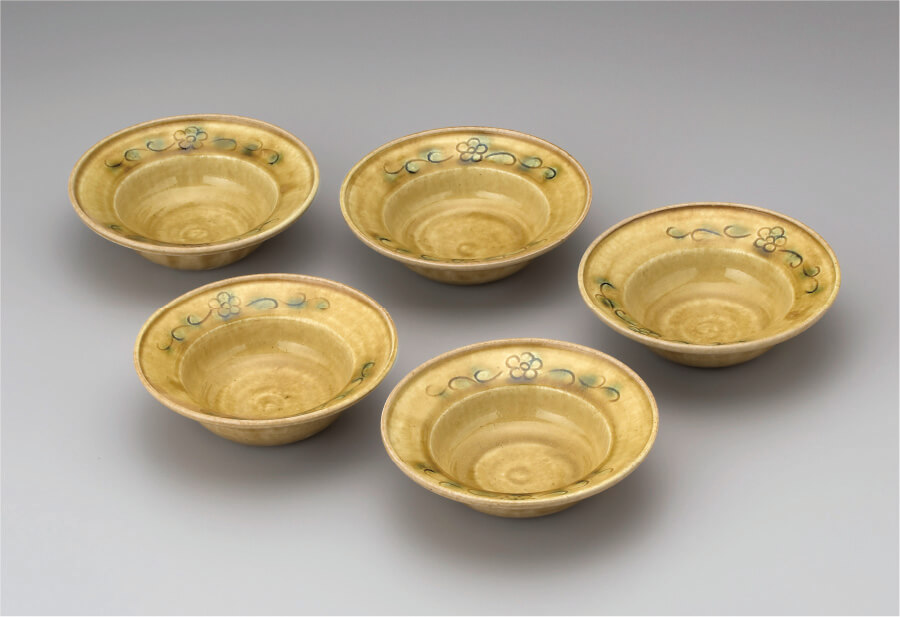 It is one of the techniques of Mino Momoyama pottery, and pottery is decorated with patterns with copper green glaze and iron glaze. In Yellow Ash glaze.
Abura Age Hada style is highly appreciated.
Ryotaro Kato works on kizeto and Tsubaki-Te, which were derived from it.
Kenzante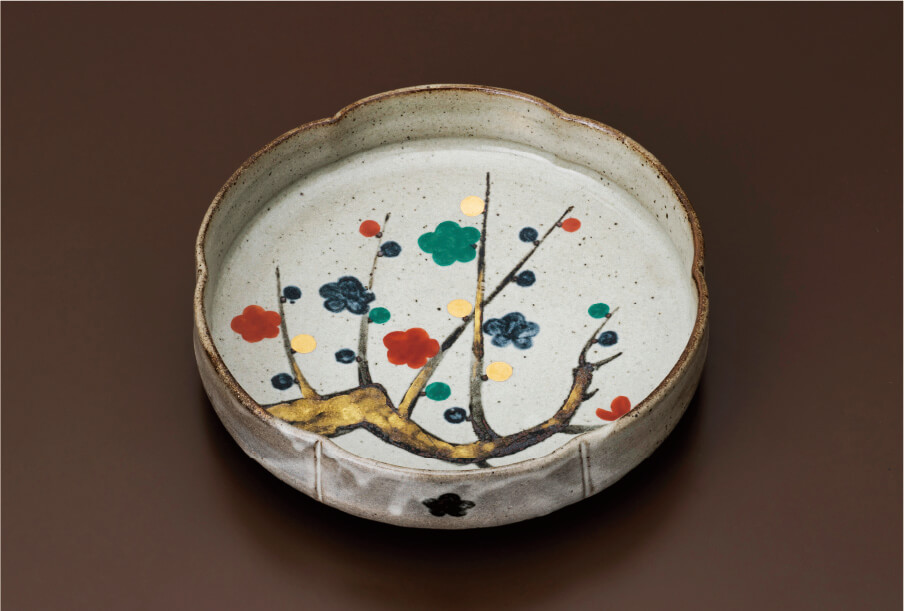 The multi colored earthenware, which was created by Ogata Kenzan the founder of Kyoto ware, who was active in the mid-Edo period. This pottery is characterized by gorgeous and elegant atmosphere that incorporate botanical designs such as plum blossoms and cloudy brocade patterns.
Kinginsai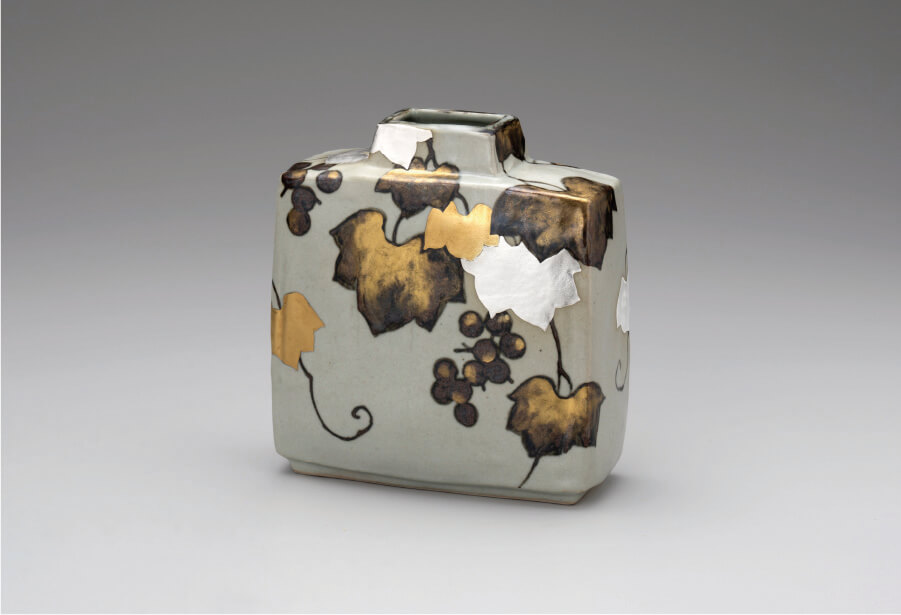 Part of Kenzan-Te, it is made with plenty of gold and silver.
Ivy and mica patterns are drawn with underglaze painting on Oni ita plate using various overglaze painting techniques, including Tarashikomi (hanging) technique.
Akae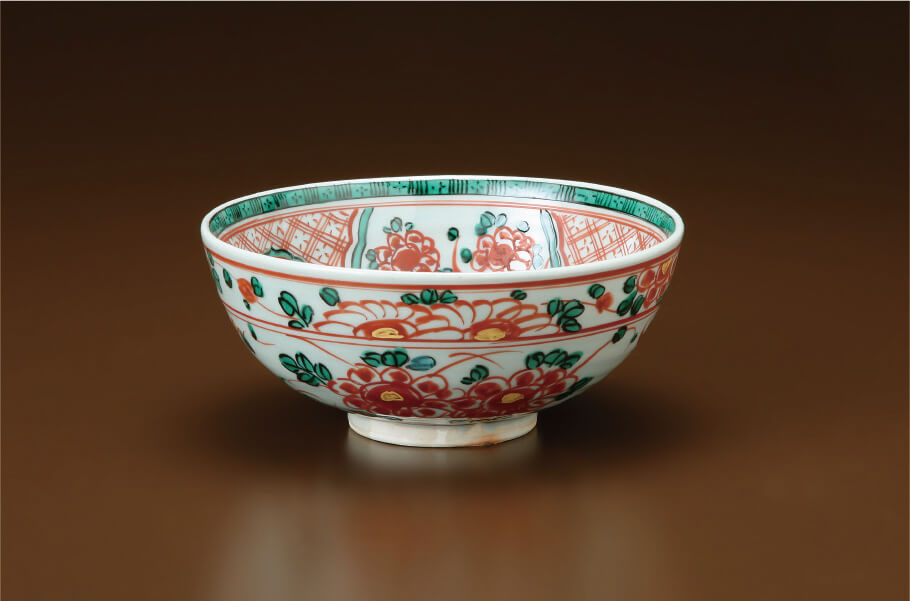 The technique of painting with green, blue, yellow and mainly red originated in the Sung dynasty of China and was widely used in Japan. Eisen Okuda of Kyo-Yaki preferred to make this style. Large-scale painting works made in Zhan Zhou kiln in China are called Gosu akae. Kobei Kato the fifth was favorite this style.
Sometsuke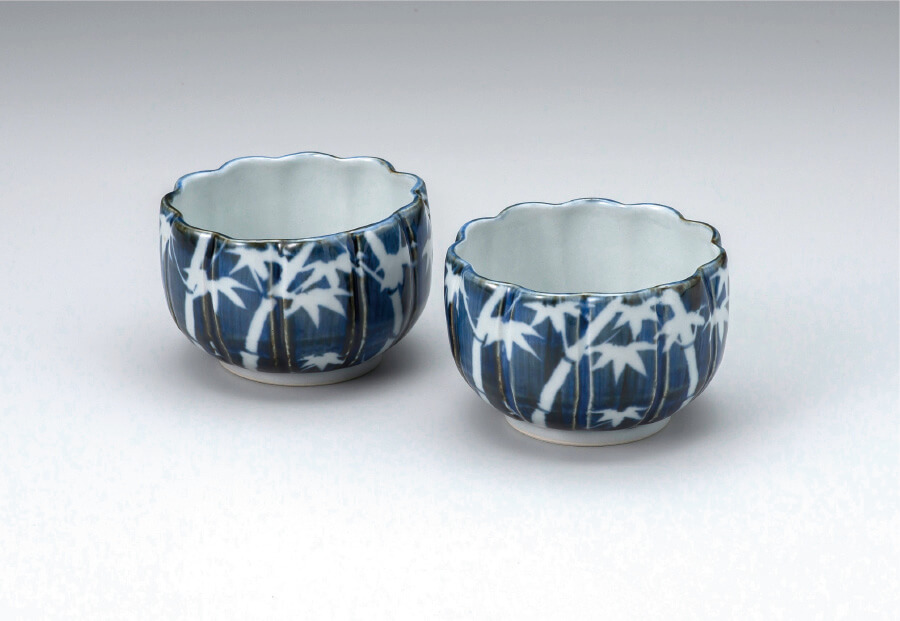 This is a pottery that flourished during the Yuan dynasty in China, in which the base of porcelain was painted with underglazed with cobalt oxide blue.
It was introduced to Mino at the end of the Edo period. Kobei Kato the First had a piece of porcelain with an elaborate, finely detailed painting done on it for Edo's castle (now Tokyo) part of his Ichinokura blue painting.
Sansai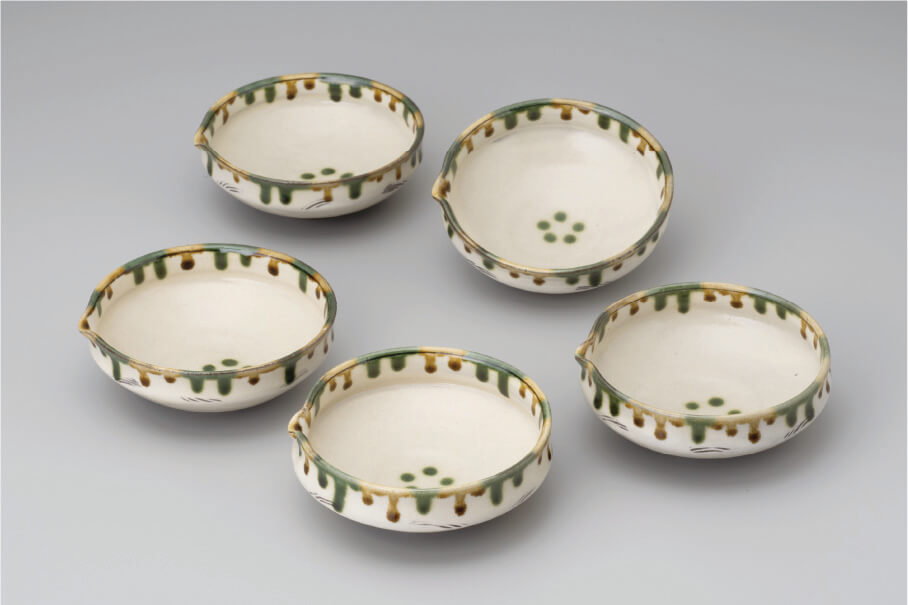 A polychromatic technique of lead glaze, which flourished in China in the 8th century as the Tang Dynasty Sansai, spread along the Silk Road to West Asia and Japan.
The three primary colors are mainly green, yellow, and white.
Takuo Kato was involved with the Sansai from the early days and was designated as a living national treasure for his achievements, including the restoration of Shosoin Sansai.
Aoyu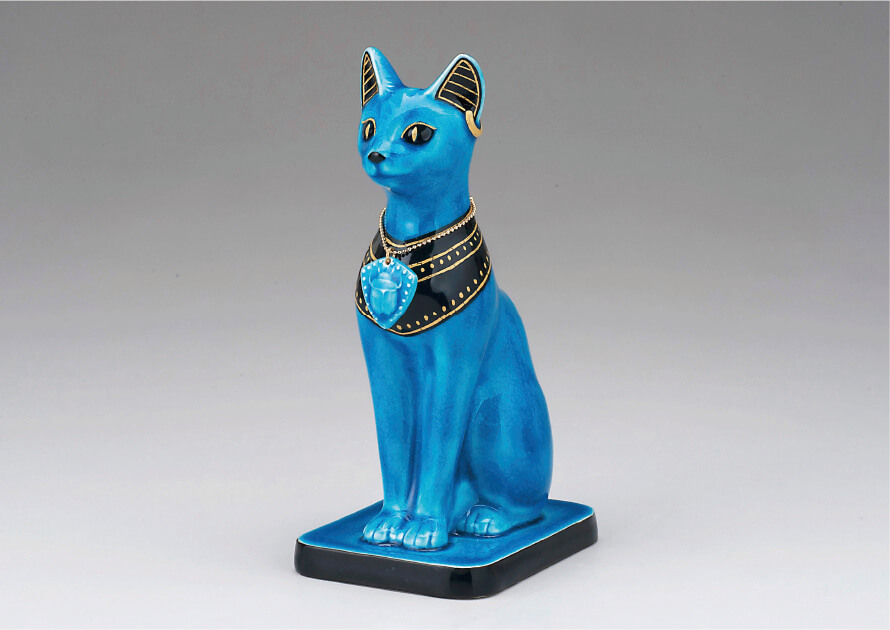 The oldest blue pottery in West Asia, using copper for pigment, which has been used since the 3rd century BC.
Persian blue for the desert people is hailed as the Mother Caspian Sea color, a symbol of life and a sacred color.
Takuo Kato has been working on a blue glaze since his early days and Kobei Kato the seventh has been working on a slightly pale blue glaze.
Persia Iroe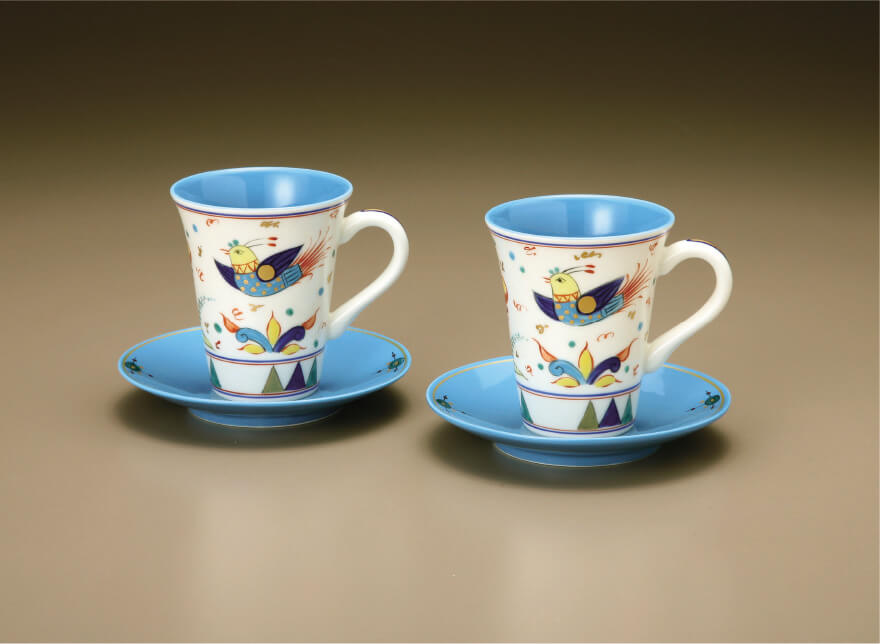 During the 12th and 13th centuries, when Persian culture was more glamorous, these ceramics were strongly influenced by the traditional miniature paintings of West Asia.
It is also called Minai-Te.
Its motif is pleasant and faltering atmosphere of Persia.
Takuo Kato also left many works in his later years.
Persia Iroe "Lapis"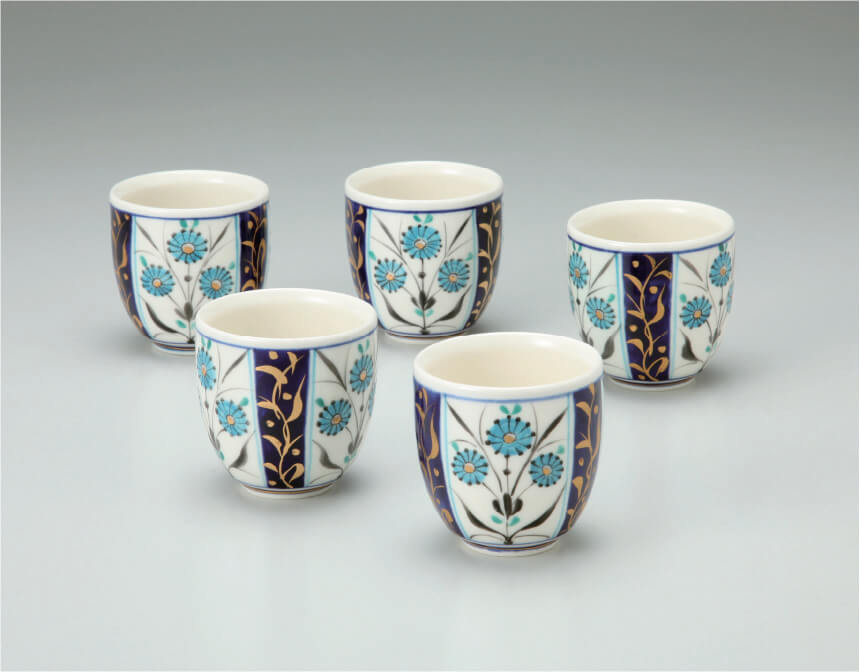 This is one of the Persian color painting techniques, in which cobalt oxide blue is used as the primary color for painting floral patterns.
It is characterized by dignified colors reminiscent of the gemstone lapis lazuli and a relaxed painting style.
Kinrande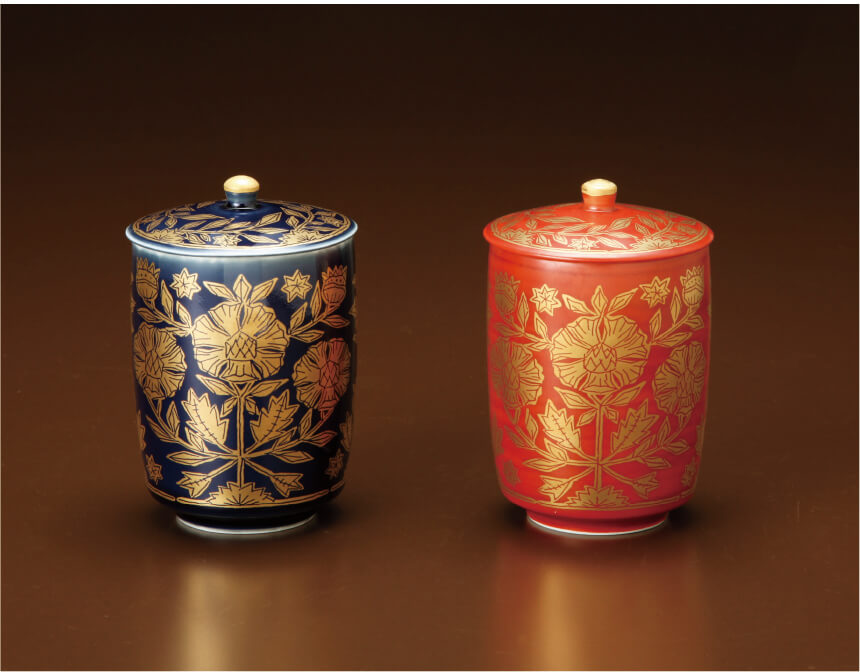 This is the quintessence of Chinese Ming dynasty pottery techniques and is based on overglaze painting with glittering colors.
Gilding over red and navy blue ground color, and the scraping technique is applied.
Kobei Kato the fifth often worked on it in his later years and left behind some excellent pieces.
Special pieces of pottery for your special occasion, Custom production is available upon request.
Kobeigama accepts custom orders.
We will respond to your orders for wedding and funeral gifts, anniversary gifts, personalized gifts, commemorative pin badges, etc.
Please feel free to contact us.
Sample 01

NHK Historical Drama "Awaiting Kirin"
Original Pin Badge and Wind Chimes

Made for sale at the post office
3,000 pin badges, 400 wind chimes

Sample 02

Colored stork pottery

Produced as a memento of the Fujita Gakuen.
Ordered 150

Sample 03

souvenir plate

We produce it as a memento of the Ogaki Kyoritsu bank every year.
Ordered 500 each.

Sample 04

Gold Ruriji Cup & Saucer

Produced as a memento of the Ogaki Kyoritsu bank
2pieces set
Ordered 300
A sense of beauty that colors the space
Ceramic wall with overwhelming presence
We accept orders for ceramic walls that decorate the interior walls of buildings.
We will respond to your orders for ceramic walls of various sizes, themes, and designs, such as ceramic walls made of substantial ceramic plates divided into sections, and combination ceramic walls with arabesque tiles.
Please feel free to consult with us.
Sample 01

At JR Tajimi station "Echoing Voices" by Kobei Kato the Seventh

Sample 02

At Nagoya Telepia Hall "Kinoshita Gakujin" by Takuo Kato, the sixth generation